AFRICA 2019 - Part 2: A swim in the Devil's Pool, The Blue Train, and a Great White Shark cage dive!
Updated: Jun 8, 2022
Continuing directly on from 'Africa Part 1', there's no rest for the wicked. ;) It's going to be pretty hard to top how amazing our last week was, but we'll give it our very best shot!!
A quick stopover again at the Fairmont Nairobi, before a 4.30am pick up for our flight to Livingstone, Zambia; to the magnificent Victoria Falls.
Time to catch up on some wifi, after being on the Masai Mara for 3 days off grid -
and happy to be so.
Check in on home, all good...and load some pics.
---
They treat security very seriously here, and just driving into the Nairobi International Airport before dawn, we had to exit the car and walk through metal detectors,
and we were still probably a kilometre from the terminal.
I'll never complain about too much security. I think it's a blessing.
So, after a 3hr/15 min flight, which took us right past Mt Kilimanjaro,
her summit just peeking through the clouds -
(be still my heart - such strong memories of an extraordinary time of my life)...
...we arrived in the sleepy little town of Livingstone. I love it here. No more razor wire, and the only set of traffic lights in town weren't working,
due to their constant rolling blackouts...'power loading'... However, you do have to give way to the elephants.
Hard to describe, but the more remote a place, the more I feel at home. Whilst I really enjoy the likes of London and Paris, I'm truly a lover of the great outdoors. Give me a green and blue view over concrete any day.
We had 3 days booked at the David Livingstone Safari Lodge and Spa, and when I first booked it, I didn't think we'd find stuff to fill our days. Pffft, that's a joke!  If you come here, 3 days is the absolute minimum you should allow. I easily could have filled another couple of days.
Possibly it's something I could have researched more, but hey, at the time,
I thought 3 days would be plenty!
Besides, all I really wanted was to swim in the Devil's Swimming Poll at the top of
Victoria Falls - I thought the rest would be a nice fill in. How wrong was I?
There is so much to do and see here. It's absolutely fabulous.
Also, it depends on what season you are here for.
This was August... the beginning of the dry season - and the best time to swim at the falls. (Actually, like Australia, they hadn't had much of a wet season, and they were in drought, just like us at home.)
Now we have done this, I wouldn't be opposed to returning here one day, in the wet season, to see and feel the might of these 'wonder of the world' falls, as they plummet to earth under a cloud of mist. Apparently you can't even see them through the spray, you just hear them, feel them, and get soaked by them. It'd be an experience, that's for sure!
Here's our gorgeous digs for the next few days:
As we arrived in by about 10.30 am, our room wasn't quite ready yet.
That's OK, and to be expected at this hour.
Instead, we walked into the activities office to see what was available. I had quite a few things booked, but not a helicopter ride over the falls, which I was told was a 'must'. I wanted to wait to see how the weather was like, and yep, it was perfect now. When I asked "Can we possibly go today?" they replied, "There's a spot now, are you ready?" ..."Born ready! Let's do this!"
As we were walking out through the foyer, they came to let us know that our room was ready... how fab...so I said; "I'll be back. Gotta get to the chopper!"
Hilarious.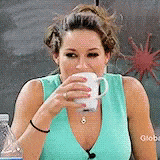 Pretty much me as I was typing this...:)
I've never actually said that before.  Two ripper movie quotes by the same guy, in the one sentence. I'm such an idiot, but I love it, it's who I am - bad movie quotes and all! Sorry kids.
Yeah, nah, not sorry. :) 
So off we took, for 'The Flight of Angels.'
  Happy days indeed, woohoo!
There are 3 choices of flights to do and these are in order of length and cost: 1: Fly over falls.
2: Fly through gorge and over falls. 3. Fly through gorge, over falls and then over National Park.
Our agents back home had suggested we choose number 2,
so we did, and boy, what a great choice.
We left over National Park anyway, heinously dry from drought, and then we
descended into the gorge. Have I wanted another word for wow?
How about 'holy shit' ?
This was INCREDIBLE!
We followed the river, just metres above it, banking from left to right as we snaked around the tight bends - it felt like a scene from Mission Impossible!
It was absolutely thrilling!
Even if we didn't do the Falls, I still would have been ecstatic.
It was such an adrenaline rush!
Seriously, we are in a chopper here, not a boat. This was just awesome! The video is over on the wall.
We then rose above the falls, and did a figure 8 over it, so we all had a great view. I was front and centre, literally, so blimey Charlie, I was totally spoilt for a view!
David Livingstone is to have proclaimed when he first saw the falls:
"Scenes so lovely must have been gazed upon by
angels in their flight..."
Yep, fair call, I'd pay that. It's the perfect description. :) 
(Hover over his name and click on the link. His story is truly remarkable.)
Imagine if he saw it from up here - Aren't we lucky these days?
May I just add, that Dr Livingstone was so enamoured here, he did such great work, particularly in his plight to end slavery, that after he died, they removed his heart and buried it here in Zambia, - the rest of him is interred in
Westminster Abbey.
 Currently, being the dry season, and in drought, most of the water is channelled off, towards their hydro electric system, that's why the falls look somewhat diminished... However, in the wet season, nature takes hold and this entire cliff face of 1.7 kilometres is completed covered in a torrid of water. It is twice as high, and twice as wide as Niagara Falls.
My dream of swimming at the top, comes down completely to the amount of
water going over on the day. (My travel agent came here during the dry season, but it had just rained heavily, and they couldn't go.)
It's never guaranteed.
We get to do a walking tour of these tomorrow, then, hopefully, do the big swim the following day!
In the wet season, the falls fill this whole picture, beyond where the cliffs stop at the bottom of the photo.
So, not the day we had imagined after getting up a 4am in Nairobi.  Far out, the best part of travelling is just saying 'YES' and doing it! What a brilliant start to our stay in this truly amazing location.
Back to the hotel, via the 'Elephant Crossing area', and seeing many of the steel fences around here have just been trampled/pushed over. They go, where they choose. Fence? What fence?
 We found our room, facing the Zambezi River; gorgeous, and more mosquito nets -
and for good reason! We had a balcony, but couldn't use it for the hordes of mozzies outside,
but at least it was a beautiful view.
 Time to check out the rest of the place, and grab some lunch and perhaps a bevy...?
 A very well positioned, and well used deck, day and night.
Now, if you're going to have a burger and fries...have a burger and fries to indulge in!
(For what it's worth, I don't eat the bread... )
 The food here is plentiful and really cheap!
With the next two days having various activities planned, we sincerely enjoyed the rest of the afternoon, laying by the pool, relishing in doing nothing... for a change!
Then as day turns into dusk, the colours of the African sky transform into an artist's
palette of technicolour.
Check out the mozzies!!!! Strangely though, they never sat on you or bit you!
As we say in Australia..."Ahhh, the serenity!"
---
 A new day dawned, a carbon copy, weather wise, of the day before. Such is the dry season here.
We enjoyed a buffet breakfast overlooking the river, and yes,
that's a crocodile just cruising past...
as they do!
 We headed off later for our walking tour of the falls. It was just Trev and I, so a private tour, even better.
Sometimes its nice to have a one on one...or in this case, a one on two. :)
I had booked in for a Gorge Swing later...off the Victoria Bridge.
Like a bungee jump, but not so much of a 'dead drop',
more of a free fall and huge pendulum swing after that.
Right up my alley, but not Trev's. 
He'll kiss my cheek goodbye on this one and video me. That's this afternoon. Walkies first.
This was great.
Views to die for, (well, hopefully not...) and a wonderful history lesson.
We had baboons and vervet monkeys for company,
and when we got to walk across a narrow bridge,
Trev was under the usual strict rules (from me),
of no jumping or swinging! He does that, it's his thing. And no-one likes it! At least this wasn't a rope bridge - those he really has fun on... "Child! " I tell him..."Am not" he says! :)
Cute little vervet monkeys. The their faces are just so expressive.
  Victoria Bridge; this is the link between Zambia and Zimbabwe. Technically a 'no man's land', as the respective borders are either side of the bridge. That's where we swing and bungee from. Hmmm, insurance issue much? lol
Watch the baboons there, Trev.
And here is where the fun for the day ended for me.
Well, at least for a few hours. I've had a nagging pain issue for the past few years, (enlarged ovary ) that comes and goes, and all I can do is manage it with heavy pain killers the moment it starts. Well, it started right here, on this walking tour, and the pain killers didn't work. My biggest fear, that I have said to the doctors back home was, 
"What if the pain killers don't have effect, and I'm in some remote place like
Antarctica or Zambia...?
Like boom.
Almost foresaw my own future there.
Anyway, we made it back to our hotel, and 5 strong painkillers, one anti inflammatory, and 3 hours later, it finally subsided.
However, I had to cancel my gorge swing, (not happy) as I would have had to walk out of the ravine, and I was struggling just to breathe at this stage.
Gotta get this sorted once and for all when I get home.
Anyway, once it goes, I'm completely ok, at least until it happens again,
as there's no pattern to it. 'Fingers crossed, and keep the pills handy' is our motto.
Moving on!
I don't want to be a kill joy; there's lot's more to see and do.
Feeling much better later, just in time for us to climb aboard none other than,
'The African Queen', for our sunset Zambezi River cruise.
A wonderful few hours, heading towards the grandest of African sunsets, gawking at hippos and elephants whilst eating delicious canopés, and enjoying an open bar. What's not to love?
A light supper back at the hotel deck, and I truly hit the wall...
so we decided to crash back at our room. Crash being the operative word there. With all the meds I took today, combined with a few wines on the boat, I may or may not have gotten tangled in the mosquito net and pulled it
half off the ceiling as I lumbered into bed. Oops. I'm sure I'm not the first. Anyway, that's what I'm going with!
Whoa, what a day!
 This is definitely the 'before' shot...
---
Another day, and again, more carbon copy picture perfect weather for us to enjoy,
what was looking like a 'double bucket list' day!
Firstly, we had a morning horse ride booked. Giddyup!
For those who know me - horses are my thing.
My passion, my life. I've owned, ridden, shown, bred and loved them for over 30 years.
However, Trev, whilst a great supporter of my passion, and always there to help build or do anything I need for them, he has never really been into horses, and we only had our first horse ride together 2 years ago, in a fertile, active volcano in Ecuador! As you would. :)
So since then, I thought it would be cool to try to do a ride, on our travels, but somewhere different - somewhere, obscure.
So a safari ride, amongst zebras, giraffes and maybe elephants, is what we are doing today!
Yee-ha!
Not what you'd expect to see when you drive into a riding ranch...but 'hay', it's Africa!
Okay, THIS is more like it!
 A very happy day indeed for this little red duck!
I've always wanted to ride with African wildlife.  Such a thrill. Big tick!
Afterwards, we had to high tail it back to prep for our next adventure, and one of my goals in life, and that is to swim in the Devil's swimming pool,
right on the edge of Victoria Falls.
And yippee, it's going to happen!
That is, of course, until we got picked up by our driver, who said we couldn't swim today because there was ice in there.
Now call me stupid, but I had been so pumped for this, I believed him and squealed "Noooooooooo!!! I don't care, I'm still goin' in!"
He just laughed, along with Trev.
Yup, gullible Mandy again!
Easy pickings.
So, that out the way, WE were on our way...!
First, once all insurance waivers were signed, we jumped into small boats and were taken for a short spin on the river, out to Livingstone Island, which is located bang in the middle of the Zambezi River, and right on the edge of the falls.
This is the very location where Dr Livingstone first sighted the falls.
It took us a lot less time to get there than it did him, back in the days!
They have some permanent structures there, to cater for the day trippers, so this is where we left any clothing or belongings we didn't need - basically it was just down to your swim wear, and your cameras.
Along the way, we honoured the great Livingstone, and paid respect at one of his many memorials, as we edged closer to our goal.
 I still can't look at the right spot...
See the people in the background, in the distance, right on the edge? That's where we're headed!
Woohoo!
But first - we swim!
And I don't mean wade. Swim.
--- This is the same river, only 1 kilometre or so away, where we saw the crocodile swimming past us at breakfast. Ok, I'm hoping they know there's a waterfall imminent and they best not be around... haha...???
---
Now, there are two things in life that Trev hates more than anything, (besides perhaps, swimming with crocodiles...) Early mornings, which I have mentioned. And - swimming in cold water. He abhors it.
And when the driver this morning joked that there was ice in the water - well, he probably wasn't that far off. After all, it's still winter...
IT.  WAS.  COLD!
They had two ropes going across the river, just to guide you in, as you can imagine the current is super strong. They even advised me to put my GoPro in the dry bag alongside my phone, for them to carry across, as they said they have seen them get
ripped off their casings.
OK, cool....? Yikes.
A few steps into the freezing water, and holding onto the ropes at first, we were told to follow the guide in, then let go, and swim hard up stream, diagonally against the current, to a place you can stand, then swim the rest of the way diagonally across the river downstream, to the other side. Not that far, just a few minutes really.
That was a few minutes of hearing Trev yelling
"Cold, cold, cold, argh, cold, cold, brrrr, cold" the whole way.
Poor blossom. He wasn't a fan.
If you were a weak swimmer, I wouldn't recommend this.
You can get fairly close on foot, and experience it, but you won't be able to get to the Devil's Pool unless you can swim the river with it's freezing temperature, and it's currents.
Once we hit rocks under our feet, we linked hands like a monkey chain, and walked the rest of the way as a group, over rocks, as we clambered out of the river.
Made it!
"Bags being first in", says our guide... "Cannonball!"
Check the video on the wall, pretty amazing. 
I think if I had've done that, I may have washed those poor dudes right over the edge! 
They let you in as groups, or couples, or singles, and they help you up onto the rock shelf which acts as a great natural barrier, and must be the ultimate infinity edge pool
in the world!!! The guides grab your camera and takes tonnes of video and photos of you, they really know the best shots. None were blurry, I was very grateful for that.  Not like you can redo it.
 The rainbow below the falls is just glorious. And they say, on a full moon,
they have a 'moon bow'. 
Trev must have shrunk so much in the cold water...wink, wink, that his wedding ring disappeared, right here. We didn't noticed for a few days, but when I did a 'photo recon' I found he had it on in some of these photos, like above, but not others, like below!
It's a funny story now, as it was only a cheapy that we had bought in Portugal last trip, (which was another replacement..) so now I've threatened to have his ring tattooed!!! ;) ;)
 Look Mum, no hands! AND NO RING! 
Too funny, we aren't worried.  And like I said, it makes a funny story to tell.  What a place to lose it!
 We weren't allowed to do this.
They're pretty gutsy, these guides!  They have an incredible responsibility, and we felt safe the whole time. As long as you listen, and follow their instructions to a T. If you swim too far across, you will go over. Best do what you're told...
---
We must have had a good 30 minutes in the pool, all by ourselves, aside from one guide, and we were reluctant to get out. By this time, we had acclimatised to the water temperature, and it felt invigorating.
Sadly, all good things must come to an end, and it was time to go.
More monkey grip walking with our group, swimming against the current, and then out to towel off.
What an absolutely exhilarating experience!
Our Livingstone Island day wasn't over yet. We had lunch to enjoy next. Now here was one of the most pleasant surprises on our whole trip so far. In a little shelter, with basic facilities and a generator, we were served a fine dining
3 course meal, all drinks included.
It was fabulous, sitting around a huge square table, all happy to listen to and all share our various travel stories with fellow travellers. One guy had done 120 countries! Wow!!!
 Not bad, for a shack on an island in the middle of the Zambezi and on the edge of the Victoria Falls. They did a super job!
Presentation worthy of Masterchef!
I should have taken more photos of the food, but I was too happy to be involved in the occasion.
A couple of  G & T's later, with full and happy bellies, we wandered back to the little boats
to take us back to the mainland, even cruising past some elephants
that had wandered through the shallows and over to the island.  Trev did do some great 'tracker work' to let us know the ele's were nearby!
"Crikey - I can smell 'em from here", would be something the late great Steve Irwin would have said!
What a brilliant day. HIGHLY recommended.
Back at the hotel and all dry and cleaned up, it was 
time to reflect on not just an incredible day, but a really fabulous 3 days,
here in Livingstone.
There are other activities to do here, that we would have done for sure,
if we had another day.
Like a visit to the 'Elephant Cafe', which is a bit like a 
Giraffe Manor experience, I believe. I'd love to get up close and personal with some elephants. They, alongside giraffes, are my absolute favourite African animals,
well, that you can pat...;)
Also, you can whitewater raft the Zambezi. A bit scary I reckon, but if the conditions weren't too ferocious, I reckon I'd give it a bash,
as well as the Gorge Swing which I had to cancel.
Here's a link to heaps of activities and places to stay. Just click and scroll.
See what I mean by needing more than 3 days to see everything?
I'm thinking we may just have to return one day to complete the job!
 Time to unwind, and prep for the next stage, as we continue our southbound journey towards Cape Town. Next stop, Johannesburg.
 But not before one last Zambezi sunset.
Bye bye Zambia, hello South Africa!
---
Johannesburg.
We aren't in Kansa anymore, Toto...
My go-to phrase, when things are so very different from we're we've  been.
You know how I love nature, and the great outdoors? Welcome to concrete, razor wire, and potential danger. Johannesburg has never been renown for is...ambience.
Hmmm.
'J'burg' was a 2 day stopover for us, as we had 3 days before we could pick up the beautiful Blue Train from Pretoria to Cape Town, so we chose to spend 2 days here,
then one day in Pretoria.
It was a case of filling in for 3 days,
perhaps we'll make good of this and do something different. 
To say that I should have planned these few days better... is an understatement.
Between the airport, and hotel, I felt, for the first time in any of my trips to Africa, or anywhere for that matter, that we could have been killed. Yup, you read that right.
And that counts climbing Kilimanjaro, where people die all the time,
and jumping out of a plane. Those are what I call 'calculated risks.'
We got ourselves into a potentially bad situation. Very quickly.
And I only add this in, as I feel my blog is an honest recap of our trips, fun, funny, awesome adventure alongside the occasional illness, a warts and all story, and occasionally it's an 'oh crap' moment.
If I can spare someone else from what may have happened, well, that's great.
You live and learn. Operative word there - live!
As I type this, it seems now like I may be exaggerating or overplaying it,
but this is how I felt at the time. I was scared. I was angry at myself that I felt I let this happen. I won't dwell on this, I'll just give the facts, but it just goes to show that its not always rainbows and unicorns, as much as I'd like to believe it.
Here's the low down:
Arriving at J'Burg International airport, we noticed no-one there holding up a piece of paper with our names on it - nope, no transfer today.
Usually, I'm on top of these things, but after flipping through my documents, I just assumed our hotel was close and a taxi was going be the cheapest and easiest option, hence, no transfer was booked.
So, I went to the Information Desk, where two guys were there - with their high vis uniforms on, and I just asked where to go for the taxis.
"Yes Ma'am, let us show you."
I knew better.
I knew from my last visit here, not to get porters to take your bags,
not to follow anyone...
Before we knew it, they had my bag, (Trev held onto his), and we were heading out the doors.
They had our bags in the trunk of a car before we knew it. I held up the paperwork for the driver to read - he spoke no English,
and just kind of nodded.
The porters were hassling us for tips, which, sorry, but we didn't, because we felt hustled.
Once inside the cab, Trev noticed there was no meter, no driver ID,  no credit card machine, and this is when we felt we may have been scammed.
I asked him if he was an Uber, to which he didn't respond.
I then realised we were put in a car that wasn't at the front of the taxi queue,
it was just half nosed in.
My spidey sense smelt a scam, and I honestly thought we may have been robbed, or worse. By now, we were already on the move, and it was too late to get out.
Shit.
When I saw the sign for the Emperor's Palace Casino and Hotel complex coming up on the right , (our destination), I prayed he turned right.
He did. OMG, never been so relieved.
He still drove us around, seemingly not finding it, which was suss, but in the end, it was legit. We had no local currency, only USD, which he couldn't figure out the exchange rate, so when we pulled in, he just waited while I asked at the front desk what was the
right amount to pay him.
Like I said, it ended up legit, but for a few minutes, I thought we were doomed. Seriously, it was the longest few minutes of my life.
I was super angry at myself, and I begged Trev that in future to please rein me in, as I tend to rush off, trusting everyone.
He needs to absolutely stop me from saying 'Oh, this guy is ok, let's follow him." No, let's not. I knew better. And I still fell for it.
Tips: Look for a meter, ID, and do it yourself.
Welcome to Johannesburg.
Sadly, it's reputation kind of precedes itself, and you are waiting for drama.
Call me chicken, but Trev was mugged once, (in Hyde Park in Sydney),
and was very lucky to get out of it. Over the years, we also have gotten away together by the skin of our teeth in San Fransisco, Washington DC and Brisbane.
 We try not to take chances, especially in places we don't know, but that's the thing...when it happens, it just happens before you know it.
Ok, all said and done.
Back to the regular programme, ok? Hope you didn't mind me adding that to the story. Back to rainbows and unicorns, please. :) 
Now, that was over, time to shake it off and move on, so we can enjoy this grand hotel and casino complex -
The Emperor's Palace Mondier Hotel and Casino...a place I had booked because I stayed here last time, and with all the shopping, theatres, restaurants, cinemas, bars and casino, all indoors, and connected by a 'Caesar's Palace' style of forum,
there was no need to venture out into the city.
Good.
As we were settling into our room at the hotel, we get a knock at the door - "What now?" I thought suspiciously...apparently we had a parcel delivery?
Turns out, our Tour Company which booked everything here in Africa, had our upcoming itinerary for here, Pretoria, The Blue Train and Cape Town. Reading the fine print, it said there were free shuttles from the airport to this hotel! Like really? You tell us now?
As if those porters at the airport didn't know about a free shuttle going to this place...
Sheesh, if I wasn't still a little wound up, I would have laughed.
Anyhoo, time for an explore of our home for the next two days.
Haha, and this is the first thing we come across...
Welcome to the Jungle.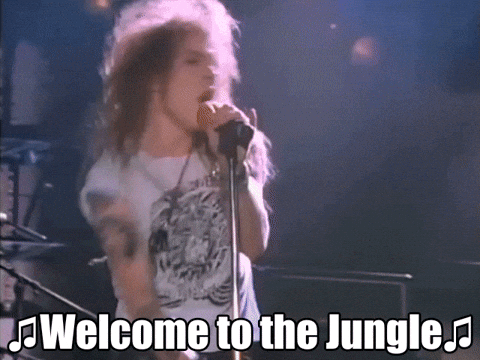 Actually, I'd rather be in the jungle! LOL.
Next, Trev was starting to get a 'feel' for the place - ;)
This forum area was a great place to be.
So many awesome looking restaurants, and if you're into gambling,
the casino was absolutely massive. There's something for everyone.